Swords Earrings
Earrings presents swords with moon details.
 Jewellery is in antique silver color with grunge texture.
Project Euflonica
Measurements:
high 6,5 cm

Every piece of Restyle jewellery is compatible with EU law and it's safe for your skin.
Users reviews
(12)
Average rating: 5.00
Rate:

Rate:

My favorite earrings, love everything medieval. :)
Rate:

These look so medieval! That's why I like them so much!! Perrrfect!!! Please make more styles like this!
Rate:

Hot AF. Bought these for my girlfriend and we both love them, I can't stop staring how well they fit her and I probably want a pair for myself too now... Viking lady fibes but also totally Goth chic.
Rate:

Nice quality, they look great! Sits well in the ear, will not turn around or anything. Not heavy at all! Does not poke you at all, I wore this under a beanie and scarf for a day and barely felt them! The back plastic bits are small, they are not noticeable at all, with long nails they might bother you for a sec while putting them on.
Rate:

Just the perfect earrings
Rate:

Rate:

a++++ nice sword shaped earings, they are not sharp on the edges, nice price and fast delivery love your store its pretty, doesnt cost to much and is special.
Rate:

Love these! They're really light and the perfect length. The quality is really nice too.
Rate:

They are a little heavy but the favourite earrings in my collection! Love them!
Rate: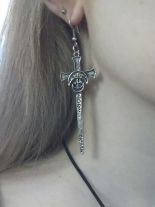 Not too long, not too short. The quality is really high and the backs are tight which means that you'll never lose them. Btw, they're quite light. Love.