"Snake" Necklace
Necklace presents huge snake with strong texture.
Jewellery is in antique silver color with grunge texture.
This occult necklace will look marvelous with black fashion clothes.
Project Euflonica
Measurements:
high of main element 10 cm
total chain lenght 40-50 cm


Every jewellry in our offer is compatible with EU law
Sample of every model has been tested in laboratory.
The test result is available 
HERE
Users reviews
(11)
Average rating: 4.91
Rate:

A great necklace! The clasp was stuck at first but I was quickly able to fix that and it works fine now. The chain is very sturdy and the pendant is pretty light for its size. The only potential flaw I see is that while trying to get the clasp to work the patina on it and on the chain already rubbed off a bit on my hands, so it's safe to assume that some of it will eventually come off through wear. The pendant itself doesn't give me that impression though. Overall an incredible piece for a cheap price!
Rate:

Had my eye on this necklace for a while and so glad I got it because it's wonderful. It's huge and wonderful. Cannot recommend it enough.
Rate: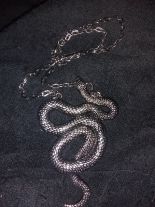 This one has to be my absolute favorite from this companies collection. Snakes have always been my go to for my jewelry (besides moons of course) And finding this one made me very happy! I absolutely love the texture and the semi realistic look to this snake, there is a lot of jewelry with snakes applied but they didn't look right to me... Unfortunately there was a slight problem with my necklace and was slightly inconvenient. (which is why I gave it a 4/5) The lobster clasp for this necklace wasn't allowing me to open it at all, was stuck for the most part. I had to tamper with it, put some oil on it and make the clasp move. It is fine now I just find it odd that this clasp was stuck shut for an unforeseen reason. It is understandable since these items are mass produced, so mistakes do happen from time to time. The Shipping took one month which was disappointing, but it isn't the companies fault just what is going on in the world at the moment (from Poland to USA) Over all I am pleased with what I got
Rate:

Very original necklace, love it!
Rate:

I love snakes, they have such a bad reputation in mainstream culture due to Christian stereotypes, but they are wonferful animals! Thank you Restyle for making this little homage to them! Quality is nice too
Rate:

Rate:

Very beautiful with strong chain, everyone complimented it so far .
Rate:

Rate:

I adore this necklace - scales of a snake are very qualitatively made, besides it perfectly looks both with shirts, and with strict blouses and beautifully looks out from under a collar. My friends constantly ask me where I found such beautiful jewelry.
Rate: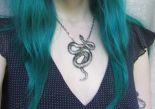 This is my favorite piece by Restyle so far. It's nicely detailed, big enough, and I also appreciate the sturdy chain, which, however, rubbed off and became a little brassy in 6 months of wear.
Rate: