Lunar Silver Necklace
Necklace presents moon phases carved in alloy. In the center there is a graphic of a moon underneath the magnifying glass.
 Moon Jewellery in antique silver colour.
Project Euflonica
Measurements:
size of moon cabochon 3 cm
high of moon phases 21 cm
lenght of chains 40-50
Every piece of Restyle jewellery is compatible with EU law and it's safe for your skin.
Users reviews
(7)
Average rating: 5.00
Rate:

I love it! Very nice quality for the price! Makes a statement in every season! Just a bit too long, for me it would be better if the chain was shorter :)
Rate: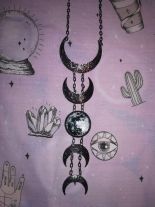 This necklace is stunning even if one of the moon is almost full black (looks like it has "lost" some silver color?). Still a 5/5 for me but I'll write again if it leaves stains on the skin.
Rate:

I love so much this necklace, it's just the best one in my closet !
Rate:

This one's perfect! I'm fairly tall with wide shlulders, so I thought it might be too short, but no! It's become a favorite piece and I'm really glad I got it!
Rate:

I love this necklace! I have it in silver and black. It is one of my favorite necklaces ever. Love the design and the way I can wear it with anything, love that it can be bigger or tighter to the neck. It is a robust product with a good quality.
Rate:

Gorgeous necklace, just as in the picture, and the quality is great. Thank you! :)