Future Goth Coat



This instantly flattered coat is made of very thick and firm wool and polyester blend (35% wool, 65% polyester). 
Very beautiful outwear which gives a beautiful silhouette.
Jacket is fully warmed with polyfill 100g, great for winter weather without feeling "puffy".

Jacket was decorated with geometry forms made of faux leather.
 String lacing on the bust keeps the style smart and sophisticated.
This futuristic coat can be dressed up for special occasions or for everyday use.

Jacket has big, detachable hood. After remove it, it will create totally different look.  

Project: Euflonica

This coat is very slim fitted.
If you plan to wear thick clothes underneath the coat, please select one size bigger you usually wear.
| | | | | | | | |
| --- | --- | --- | --- | --- | --- | --- | --- |
|   | XS | S | M | L | XL | XXL | XXXL |
| Length | 85 cm | 88 cm | 88 cm | 89 cm | 89 cm | 89 cm | 91 cm |
| Bust | 78 cm | 86 cm | 92 cm | 100 cm | 104 cm | 108 cm | 112 cm |
| Waist | 66 cm | 74 cm | 80 cm | 84 cm | 88 cm | 94 cm | 102 cm |
| Hips | 92 cm | 96 cm | 104 cm | 110 cm | 116 cm | 122 cm | 128 cm |
| Sleeve lenght | 64 cm | 64 cm | 64 cm | 65 cm | 68 cm | 69 cm | 69 cm |
| Shoulder width | 41 cm | 43 cm | 44 cm | 46 cm | 49 cm | 50 cm | 52 cm |
| Size | Length | Bust | Waist | Hips | Sleeve length | Shoulder width |
| --- | --- | --- | --- | --- | --- | --- |
| XS | 85 | 78 | 66 | 92 | 64 | 41 |
| S | 88 | 86 | 74 | 96 | 64 | 43 |
| M | 89 | 92 | 80 | 104 | 64 | 44 |
| L | 89 | 100 | 84 | 110 | 65 | 46 |
| XL | 89 | 104 | 88 | 116 | 68 | 49 |
| XXL | 89 | 108 | 94 | 122 | 69 | 50 |
| XXXL | 91 | 112 | 102 | 128 | 69 | 52 |
Users reviews
(18)
Average rating: 4.50
Rate:

Fits well and looks awesome. Because of the width at the bottom it can get a bit cold for the bum but otherwise it keeps you okay warm. The hood is so pretty but not at all practical. The smallest wind will blow it back over your head. It's very deep and you can't see if you pull it all the way over your head. I'm gonna sew two buttons in the bottom so the hood will be pulled together to keep it on my head. Otherwise gorgeous jacket! A bit of an assassin's creed feel to it
Rate:

Y'all i am so happy, i read the comments about sizing up and as i was ordering i was sure it wouldn't fit cause i'm quite the plus size, but i was like hell, i was gonna keep it for when i lose more weight, but imagine my shock when it actually fit! It's veeery very flattering and warm
Rate:

Runs small but very cute and warm! A total yes
Rate:

Lovely coat, I have been wearing it for 2 winters already and it's still in perfect shape. I would say is very true to size and since it is fitted in the waist I do not recommend buying it a size up as some other comments are suggesting ... The coat is very warm on itself and I think it looks more flattering when it "hugs" your shape. The only thing that is keeping this coat from having a perfect 5 star rating is the ridiculously large hood! Fortunately is detachable but still it would've been nice to have a properly sized hood...
Rate:

This is my favorite coat I have EVER bought! Worth every penny! It's so warm, comfortable and stylish! I usually buy medium but bought one size up after reading a few reviews and it's perfect! I can wear layers underneath and it doesn't look too bulky. Would recommend!
Rate:

Chest is way too tight for the waist ratio. The arms, shoulders and waist width are too wide, while my chest is too compressed. Getting a size lower wouldn't solve the problem and would make my chest even more tight, so... Really disappointed. :(
Rate:

So beautiful, I love it so much. Even more beautiful in real. My size is 1m69 and weigh 51kg, and for the chest 95B, I took the size S. It's a little tight at the chest, I didn't want too wide so it's OK for me,  but for someone with a more boobs it will be too fair, I think. If you are about the same size as me, a big sweatshirt will be too tight underneath, I think the jacket will not close, but with a simple sweater it should not be a problem. I am really happy with my purchase.
Rate: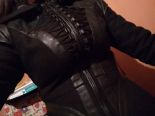 Este abrigo es hermoso, me calzó justo a mi cuerpo, tendré que usarlo con ropa delgada. Llegó en muy buenas condiciones y rápido a Chile. Estoy muy contenta con Restyle
Rate:

As I ordered this coat, I was so excited to see it for real. But at the same I was afraid that because of my size, maybe the design wouldn't look as good on me as it does on the model pictures. (I ordered the 2XL) I couldn't have been more pleased with how it looks/feels and protects against the cold. I do agree that the hood isn't handy but since it's detachable, that's just a very minor downside! All in all, a splendid quality coat that makes you stand out!
Rate:

Very pretty and comfy!! Keeps warm on cold winter days. I order all my coats in Large, so I also ordered this one in this size, fits perfect, even with a thick hoodie under it
Rate:

This coat is very unique and very warm. But I should have listen to Kayla's review and not buying it one size up. Perhaps it helps more, I'm 1.60m and 55kg and went for Size M. It is too big around the shoulders, I look like a warrior :-P Still a lovely coat tho. Guess size S would have been perfect.
Rate:

Great coat. It is perfect for winter, it really keeps you warm. I orderd it one size up so I could wear warm clothes underneath and it works great. I detached the hood, because it was just too big for me and just slides in my face everytime, but that not a big deal. But you should be aware, that the pockets can't hold too much in it. For me, the seams broke a couple times, but I just sew them back together and it was fine. Overall I love the look of it and its ability to keep you warm. I absolutely recommend it, if you are looking for great Coat to keep you warm.
Rate:

This is the prettiest coat I have ever owned. Great fit and style. Love the big hood. I usually need a M on top,so I ordered it in L to be able to wear thicker sweaters underneath. Fits perfectly. Many people asked me where I got it from cause it is so unique.
Rate:

I really love this coat, it is high quality, and is warm. Also non-gothic people like this coat (my father like it and my mother-in-love wants the same). I like on this coat, how it perfect fits to my figure. Just only thing I don't like is hood, which seems cool, but is totally impractically. Fortunately, it can be removed.
Rate:

are amazing beautiful, I hope can be durable the non-leather parts.
Rate:

I was surprised how beautiful and high quality this coat is in person. It is warm, stylish and very flattering with narrow waist. My only complaint is the hood. It looks cool in the pictures but it is so big and loose it doesn't stay put. It either drops to my chin or fall to my back. However this coat is so pretty it works without the hood.
Rate:

Ordered one size up, as I tend to wear a lot of hoodies and large sweaters. DO NOT DO THIS. This coat is still a bit too big even with my thickest hoodie. Because I ordered a size up the shoulders look extremely wide and I look kind of puffy in general. This is my only complaint. The quality of the coat is fantastic and it is pretty warm so far.
Rate:

I absolutely love this coat! The lining inside is thick and warm, and the fit is very flattering. The fake leather is very soft and overall, it feels like a high quality garment. Also, the inside of the hoodie is huge!

Update Required
To play the media you will need to either update your browser to a recent version or update your
Flash plugin
.