Future Goth Coat



This instantly flattered coat is made of very thick and firm wool and polyester blend (35% wool, 65% polyester). 
Very beautiful outwear which gives a beautiful silhouette.
Jacket is fully warmed with polyfill 100g, great for winter weather without feeling "puffy".

Jacket was decorated with geometry forms made of faux leather.
 String lacing on the bust keeps the style smart and sophisticated.
This futuristic coat can be dressed up for special occasions or for everyday use.

Jacket has big, detachable hood. After remove it, it will create totally different look.  

Project: Euflonica

This coat is very slim fitted.
If you plan to wear thick clothes underneath the coat, please select one size bigger you usually wear.
| | | | | | | | |
| --- | --- | --- | --- | --- | --- | --- | --- |
|   | XS | S | M | L | XL | XXL | XXXL |
| Length | 85 cm | 88 cm | 88 cm | 89 cm | 89 cm | 89 cm | 91 cm |
| Bust | 78 cm | 86 cm | 92 cm | 100 cm | 104 cm | 108 cm | 112 cm |
| Waist | 66 cm | 74 cm | 80 cm | 84 cm | 88 cm | 94 cm | 102 cm |
| Hips | 92 cm | 96 cm | 104 cm | 110 cm | 116 cm | 122 cm | 128 cm |
| Sleeve lenght | 64 cm | 64 cm | 64 cm | 65 cm | 68 cm | 69 cm | 69 cm |
| Shoulder width | 41 cm | 43 cm | 44 cm | 46 cm | 49 cm | 50 cm | 52 cm |
All orders are shipped the next business after we receive payment.
The delievery costs depends on weight, measumerents and way of shipment
The delievery cost will automatically be calculated after you add item to basket and fill the shipping address field
e.g. the shipping costs of one 1 t-shirt / 1 light Handbag / Heavy jacket . handbag etc

Europe ~5,7 / 10 / 18 EUR
U.S ~6,5 / 14 / 26 USD
Australia ~12,2 / 31 / 65 AUD

There are few shipping options to choose

Priority registered letter The cheapest tracking service - handled by your national post services from 3-5 days for Europe 7-10 days for U.S. up to 10-14 days for Australia

GLS available only for some European countries - the fastest and more reliable way of shipping we recommend it to you if you are going to place larger order over 2-3 kg

EMS This is the express post service - quite fast - from 3 days for Europe 5-6 days for U.S. up to 7-9 days for Australia much more expensive.


You have the right to ship the product back to us if you don`t like it or the size didn`t fit you.
The return time is 14 days after you RECEIVE the package
We attach the special form of return to everysingle order that leaves our shop.
On the form there is our shipping address all instructions and field to put your paypal or bank account details to return money
You can download the return form
HERE
Please notice that in case of regular returns (you didn`t like the product / size doesn`t fit you etc.) We will refund you only the product value without any shipping costs
If you wish to place a complaint - e.g. if you received wrong item/size , it has been broken during shipment , or it has some fabric faults. Please necessary contact us by e-mail: customer@restyle.pl
It is possible that in that case we will just return money back to you without need for shipping it back.
Restyle.pl high quality steel boned corsets for reasonable price!

Our authentic steel boned corsets are determined by waist size (in inches)
Measurements in size chart are in centimeters. There are dimensions of the corset, without binding.

How to choose the right size of steel boned corset ?
Measure your actual waist at its narrowest point minus 4-7 inches from it. Substract level depends on how much compression you want, how squishy vs firm and your experience level.

You should also pay attention to size under the bust and upper hip.
These measurements should be close to your actual size. This prevents the pressure on the ribs and hip bones.
If a corset is well fitted it should never reach the point where you experience pain, or be so tight that you cannot breathe properly.

In our offer we have several types of corsets suitable for different silhouettes:
WH-wide hips-The hourglass shaped underbust is designed to dramatically shape the waist. Recommended for women with big hip spring.
CU-curved underbust- classic corset suitable for tight lacing. It will fit most types of silhouettes.
Longline underbust- suitable for women with long torso (or tall). Corset with a bit less of a dramatic curve.
Corsets with prints-these are basically classic corsets with less of a dramtic curve.
Overbust corset- We have several types of overbust corsets. Please follow above silhouette labeling.
In our offer we also have unique styles of corsets like Black Armor underbust.
A new corset should be laced a bit loosely. Both the body and the corset must adjust to the systematic pressure, so don't force the corset too quickly as it may break.
It's the best to wear corset couple hours a day so it will adapt to your body properly.
After a while the gap on the back of the corset should be reduced to the minimum and you should break in corset perfectly.
Please note: Corset that's shaped closely to your body's natural shape will season faster than one that is not.

All corsets in our offer are suitable for waist reduction. Depending on the model, corsets provide waist shaping from extreme to delicate.
Remember that corset on different types of silhouettes will present a little differently.

In our corsets we only use spiral steel bones, which fit perfectly to the body and provide comfort. They do not deform even after a long period of using the corset.
On the back there are flat steel bones, which provide the support to the grommets. Because of them corset stay in place.

All our curved corsets have waist tape which serves as protection for the corset's seams.

Each corset is lined with a 100& cotton lining and the modesty panel.

| Size | Length | Bust | Waist | Hips | Sleeve length | Shoulder width |
| --- | --- | --- | --- | --- | --- | --- |
| XS | 85 | 78 | 66 | 92 | 64 | 41 |
| S | 88 | 86 | 74 | 96 | 64 | 43 |
| M | 89 | 92 | 80 | 104 | 64 | 44 |
| L | 89 | 100 | 84 | 110 | 65 | 46 |
| XL | 89 | 104 | 88 | 116 | 68 | 49 |
| XXL | 89 | 108 | 94 | 122 | 69 | 50 |
| XXXL | 91 | 112 | 102 | 128 | 69 | 52 |
Users reviews
(15)
Average rating: 4.47
Rate:

Lovely coat, I have been wearing it for 2 winters already and it's still in perfect shape. I would say is very true to size and since it is fitted in the waist I do not recommend buying it a size up as some other comments are suggesting ... The coat is very warm on itself and I think it looks more flattering when it "hugs" your shape. The only thing that is keeping this coat from having a perfect 5 star rating is the ridiculously large hood! Fortunately is detachable but still it would've been nice to have a properly sized hood...
Rate:

This is my favorite coat I have EVER bought! Worth every penny! It's so warm, comfortable and stylish! I usually buy medium but bought one size up after reading a few reviews and it's perfect! I can wear layers underneath and it doesn't look too bulky. Would recommend!
Rate:

Chest is way too tight for the waist ratio. The arms, shoulders and waist width are too wide, while my chest is too compressed. Getting a size lower wouldn't solve the problem and would make my chest even more tight, so... Really disappointed. :(
Rate:

So beautiful, I love it so much. Even more beautiful in real. My size is 1m69 and weigh 51kg, and for the chest 95B, I took the size S. It's a little tight at the chest, I didn't want too wide so it's OK for me,  but for someone with a more boobs it will be too fair, I think. If you are about the same size as me, a big sweatshirt will be too tight underneath, I think the jacket will not close, but with a simple sweater it should not be a problem. I am really happy with my purchase.
Rate: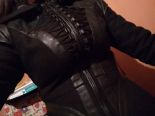 Este abrigo es hermoso, me calzó justo a mi cuerpo, tendré que usarlo con ropa delgada. Llegó en muy buenas condiciones y rápido a Chile. Estoy muy contenta con Restyle
Rate:

As I ordered this coat, I was so excited to see it for real. But at the same I was afraid that because of my size, maybe the design wouldn't look as good on me as it does on the model pictures. (I ordered the 2XL) I couldn't have been more pleased with how it looks/feels and protects against the cold. I do agree that the hood isn't handy but since it's detachable, that's just a very minor downside! All in all, a splendid quality coat that makes you stand out!
Rate:

Very pretty and comfy!! Keeps warm on cold winter days. I order all my coats in Large, so I also ordered this one in this size, fits perfect, even with a thick hoodie under it
Rate:

This coat is very unique and very warm. But I should have listen to Kayla's review and not buying it one size up. Perhaps it helps more, I'm 1.60m and 55kg and went for Size M. It is too big around the shoulders, I look like a warrior :-P Still a lovely coat tho. Guess size S would have been perfect.
Rate:

Great coat. It is perfect for winter, it really keeps you warm. I orderd it one size up so I could wear warm clothes underneath and it works great. I detached the hood, because it was just too big for me and just slides in my face everytime, but that not a big deal. But you should be aware, that the pockets can't hold too much in it. For me, the seams broke a couple times, but I just sew them back together and it was fine. Overall I love the look of it and its ability to keep you warm. I absolutely recommend it, if you are looking for great Coat to keep you warm.
Rate:

This is the prettiest coat I have ever owned. Great fit and style. Love the big hood. I usually need a M on top,so I ordered it in L to be able to wear thicker sweaters underneath. Fits perfectly. Many people asked me where I got it from cause it is so unique.
Rate:

I really love this coat, it is high quality, and is warm. Also non-gothic people like this coat (my father like it and my mother-in-love wants the same). I like on this coat, how it perfect fits to my figure. Just only thing I don't like is hood, which seems cool, but is totally impractically. Fortunately, it can be removed.
Rate:

are amazing beautiful, I hope can be durable the non-leather parts.
Rate:

I was surprised how beautiful and high quality this coat is in person. It is warm, stylish and very flattering with narrow waist. My only complaint is the hood. It looks cool in the pictures but it is so big and loose it doesn't stay put. It either drops to my chin or fall to my back. However this coat is so pretty it works without the hood.
Rate:

Ordered one size up, as I tend to wear a lot of hoodies and large sweaters. DO NOT DO THIS. This coat is still a bit too big even with my thickest hoodie. Because I ordered a size up the shoulders look extremely wide and I look kind of puffy in general. This is my only complaint. The quality of the coat is fantastic and it is pretty warm so far.
Rate:

I absolutely love this coat! The lining inside is thick and warm, and the fit is very flattering. The fake leather is very soft and overall, it feels like a high quality garment. Also, the inside of the hoodie is huge!