Runes Jacket

Long, black hoodie made of very thick, knitted cotton with velvet finish.
Very warm and super soft inside.  Slim at waist and spread at the bottom.
This sophisticated design can be successfully wear as an outwear on Spring weather.

This robe hoodie can be laced up at the waist or just hang loose if you want more casual look.
It has huge, oversized hood with the big runic alphabet printing on the edge.
Galdrastafir printing is placed on the back.
Two big hand-pockets are on the sides.  
Project: Euflonica

Hoodie is oversized, please select the size you usually wear.
| | | | | | | |
| --- | --- | --- | --- | --- | --- | --- |
|   | XS | S | M | L | XL | XXL |
| Length | 112 cm | 112 cm | 112 cm | 112 cm | 112 cm | 112 cm |
| Waist | 72 cm | 78 cm | 84 cm | 90 cm | 96 cm | 102 cm |
| Bust | 96 cm | 102 cm | 108 cm | 114 cm | 120 cm | 126 cm |
| Hips | 103 cm | 109 cm | 115 cm | 121 cm | 127 cm | 133 cm |
| Sleeve length | 65 cm | 65 cm | 65 cm | 65 cm | 65 cm | 65 cm |
| Armpit | 39 cm | 40 cm | 41 cm | 42 cm | 43 cm | 44 cm |
All orders are shipped the next business after we receive payment.
The delievery costs depends on weight, measumerents and way of shipment
The delievery cost will automatically be calculated after you add item to basket and fill the shipping address field
e.g. the shipping costs of one 1 t-shirt / 1 light Handbag / Heavy jacket . handbag etc

Europe ~5,7 / 10 / 18 EUR
U.S ~6,5 / 14 / 26 USD
Australia ~12,2 / 31 / 65 AUD

There are few shipping options to choose

Priority registered letter The cheapest tracking service - handled by your national post services from 3-5 days for Europe 7-10 days for U.S. up to 10-14 days for Australia

GLS available only for some European countries - the fastest and more reliable way of shipping we recommend it to you if you are going to place larger order over 2-3 kg

EMS This is the express post service - quite fast - from 3 days for Europe 5-6 days for U.S. up to 7-9 days for Australia much more expensive.


You have the right to ship the product back to us if you don`t like it or the size didn`t fit you.
The return time is 14 days after you RECEIVE the package
We attach the special form of return to everysingle order that leaves our shop.
On the form there is our shipping address all instructions and field to put your paypal or bank account details to return money
You can download the return form
HERE
Please notice that in case of regular returns (you didn`t like the product / size doesn`t fit you etc.) We will refund you only the product value without any shipping costs
If you wish to place a complaint - e.g. if you received wrong item/size , it has been broken during shipment , or it has some fabric faults. Please necessary contact us by e-mail: customer@restyle.pl
It is possible that in that case we will just return money back to you without need for shipping it back.
Restyle.pl high quality steel boned corsets for reasonable price!

Our authentic steel boned corsets are determined by waist size (in inches)
Measurements in size chart are in centimeters. There are dimensions of the corset, without binding.

How to choose the right size of steel boned corset ?
Measure your actual waist at its narrowest point minus 4-7 inches from it. Substract level depends on how much compression you want, how squishy vs firm and your experience level.

You should also pay attention to size under the bust and upper hip.
These measurements should be close to your actual size. This prevents the pressure on the ribs and hip bones.
If a corset is well fitted it should never reach the point where you experience pain, or be so tight that you cannot breathe properly.

In our offer we have several types of corsets suitable for different silhouettes:
WH-wide hips-The hourglass shaped underbust is designed to dramatically shape the waist. Recommended for women with big hip spring.
CU-curved underbust- classic corset suitable for tight lacing. It will fit most types of silhouettes.
Longline underbust- suitable for women with long torso (or tall). Corset with a bit less of a dramatic curve.
Corsets with prints-these are basically classic corsets with less of a dramtic curve.
Overbust corset- We have several types of overbust corsets. Please follow above silhouette labeling.
In our offer we also have unique styles of corsets like Black Armor underbust.
A new corset should be laced a bit loosely. Both the body and the corset must adjust to the systematic pressure, so don't force the corset too quickly as it may break.
It's the best to wear corset couple hours a day so it will adapt to your body properly.
After a while the gap on the back of the corset should be reduced to the minimum and you should break in corset perfectly.
Please note: Corset that's shaped closely to your body's natural shape will season faster than one that is not.

All corsets in our offer are suitable for waist reduction. Depending on the model, corsets provide waist shaping from extreme to delicate.
Remember that corset on different types of silhouettes will present a little differently.

In our corsets we only use spiral steel bones, which fit perfectly to the body and provide comfort. They do not deform even after a long period of using the corset.
On the back there are flat steel bones, which provide the support to the grommets. Because of them corset stay in place.

All our curved corsets have waist tape which serves as protection for the corset's seams.

Each corset is lined with a 100& cotton lining and the modesty panel.

| Size | Length | Waist | Bust | Hips | Sleeve length | Armpit |
| --- | --- | --- | --- | --- | --- | --- |
| XS | 112 | 72 | 96 | 103 | 65 | 39 |
| S | 112 | 78 | 102 | 109 | 65 | 40 |
| M | 112 | 84 | 108 | 115 | 65 | 41 |
| L | 112 | 90 | 114 | 121 | 65 | 42 |
| XL | 112 | 96 | 120 | 127 | 65 | 43 |
| XXL | 112 | 102 | 126 | 133 | 65 | 44 |
Users reviews
(18)
Average rating: 4.39
Rate:

It's a nice hoodie, but it's not for anyone petite or short. I'm 5'2 and 90 lbs; the XS fits snug on the arms and the length of the arms are fine, but the rest of it (the body of the hoodie) fits like a large and I'm drowning in it :(. The print is awesome, but like all print that are applied this way, it will start to crack and fade after so many washings. I suggest washing in cold water and air drying (no heat). Shipping back to Poland from California is too much of a hassle to return the item. I'm going to take it to my tailor and have her alter it to fit me. If you're short and petite, stick to the shorter hoodies like the Demon or Fortune Teller, they fit well.
Rate:

Arms are waaaay to narrow :/ otherwise it looks great and feels good
Rate:

Rate:

I love this jacket! But just like erlier comments said; really narrow arms. I orderd M size in hope to get them a bit bigger, but still very narrow. To be fair though, this is made for spring weather, a time it's more common to use tighter shirts or armless.
Rate:

I love this jacket! Very warm fleece inside and the hood is lined with some cotton so your hair doesn't go all electric on you. The sleeves were a little narrow so if you know you have broader arms order a size up , the jacket looks fine even if it's a little too big , adds to the drama. The pockets are a little farther back then you would expect but it really doesn't bother me. Lovely jacket! Would recommend.
Rate: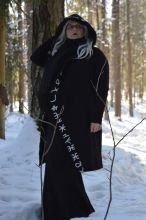 The material was suprising, otherwise I loved it. Got this half year ago and still in good use. Goes well as a middle cold weather jacket.
Rate:

It looks so lovely but the sleeves were to narrow , so I gave it away. I hope there will be some bigger vests or vests with wider sleeves.
Rate:

I received my hoodie yesterday and let said I haven't taken it off yet. I really love it. It's like a second skin. It's not too thin so it's perfect for fall winter climates. It's true to its size chart and I was afraid that it won't fit me because I wore a medium. I was nervous and kept re checking the chart then i just chance it. I am so glad I did! It's very snugged by the shoulders and that's a good thing because I don't want it to keep slipping. The hood is super huge on my head but that's perfect for my afro days. I saw where the pockets are and I was like oh! Just like I saw in Sherlock Holmes on Netflix that's the style from England duh! I don't see no problem there. The string that ties around the waist is a string that is quite dorable for those winding cold air but I have a feeling that it might snap if use to often. I bundled the strings and put it in the pockets. The rune designs are beautiful and some has faded and scratched ones making it look faded and I know it's not in the design. This tail of this hoodie just below my back of the knees which it is perfect for my butt lol. All in all it's a perfect gift for myself as an honoring witch. Thank you, restyle!
Rate:

This is gorgeous however the arms are way too narrow. Couldn't even get my arm half way in as it is that tight. I will either have to have the sleeves widened with extra fabric or I'm going to have to sell it on. If you have really thin arms you should be ok with this
Rate:

This design looks wonderful! The rune prints are super pretty, and the cut of this garment is very flattering. Also, this hoodie doesn't have a zipper, so no lumps and bumps in the fabric which is just great!
Rate:

It's really lovely and warm. Even though I was quite concerned about the pockets after reading all the comments, they are exactly where they should be.
Rate:

This hoodie really is amazing! Exactly as described, warm, fluffy, very comfortable, it feels amazing. I really, really like it. The pockets don't bother me that much, they are a bit in the back, but i don't mind that. Mine also came with only one string, but it's not much of an issue either, i can tie it up with only one.
Rate:

It's really warm and fluffy. Armpit is a bit small but the hood is huge. I'm not a huge fan of the strings and pockets. Pockets are small and almost in the back and strings are very gentle and easily broken.
Rate:

Really soft hoodie. It's very warm and stylish. It's a pity for the pockets that are in a strange position near the back but anyway I love this item
Rate:

I got a bunch of Restyle stuff and this is hands down my favorite item of the bunch! The hood is fantastic and I love the design on the back. I wore this to the woman's march and got loads of compliments on it!
Rate:

Lovely hoodie, very soft, warm and stylish!
Rate:

Very warm and cozy. Perfect hoodie for many occasions.
Rate:

Really pretty jacket. I was surprised though that it is made of a jersey material, on the pictures it looks like a cardigan to me. The only thing I find weird are the pockets. They are pretty much in the back, not useful at all!