Elegant, gothic purse with crescent and bat wings.
Made of solid and firm, faux leather with strong texture. On front there is a big, rounded pocket.  
On the sides there are bat wings which are fastened together. You can open them and have extra room for your stuff.
On the top there is a strap opening with metal moon decoration. 
On the inside there is a black lining with zipped pocket.

Bag comes with long, adjustable arm strap.
Perfect bag for every gothic girl who loves cute things.

Size:
width on the bottom: 27 cm  
width on the top: 25 cm
high: 27 cm
bottom width 12 cm

arm strap 120 cm
colour

:

black

wymiar

:

39cm

,

40cm

,

11cm



Users reviews
(13)
Average rating: 4.85
Rate:

It' wonderful, good material, seems sturdy and capacious, can carry my stuff around for the whole day! Again A +++
Rate:

Beautiful bag! Nice quality and plenty of room! My new favourite
Rate:

People stops me on the street to ask where did I bought my bag! Don't need to say nothing more...
Rate:

I love the bag. Great quality and perfect size.
Rate:

This bag is absolutely beautiful
Rate:

I love this bag! I received it in January and fell in love with it immediately. I use it all the time and it's still in perfect condition. I'm not the careful one when it comes to bags and I stuff them until they're full.
Rate:

I really love this bag , ist super cute and useful. The quality is great and the space inside is bigger as I expected
Rate:

This bag is super cute and incredibly useful for every day activities with its spacious interior and numerous pockets! This has taken the top spot in my bag collection as my favorite!
Rate:

The bag is very pretty, but sadly not of very good quality. I have used for a week and the front zipper is broken and two moon charms have come of from the zippers.
Rate: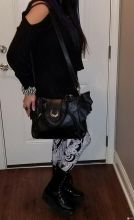 This bag is more than beautiful, it's gorgeous! Is very comfortable to wear, elegant, very spacious with a lot of pouches/pockets, to organize things inside, great quality and very stylish. I have received already many compliments and the people who have given me the compliments were excited with this purse for how stylish and unique the design is. This purse have currently made it to be my personal favorite and I am so happy and proud to own such an exquisite piece of fashionable masterpiece! I would like to add that the Delivery man apologized for the conditions in which the package arrived to the leasing office. The box came in open in several areas and beaten up pretty bad. I was worried that the purse got damaged but luckily it wasn't.The only thing, it was only missing the moon charm for the zipper in the back side pocket of the bag. Other than that the purse was fine without any major damages,scratches or too bended .
Rate:

I'm the kind of person who has tons of bags and I can easily say that this is my favourite. Simple as your everyday handbag except with bat wings and beautiful moon charms hanging from it!
Rate:

This is my lovely favorite bag :-)

Update Required
To play the media you will need to either update your browser to a recent version or update your
Flash plugin
.