Black, woman gothic top.
Made in Poland out of 100% strong cotton.
Top without any printing, it has mesh shaped as moon phases. 
This design is both classic and unique at the same time.
The mesh moon catch the attention.
It goes well with almost all jewellery, clothing or any other hat or accessories from our website.
| Size | length (strapless) | width |
| --- | --- | --- |
| XS | 48 cm / 18,9 inch | 37 cm / 14,6 inch |
| S | 49 cm / 19,3 inch | 38 cm / 15 inch |
| M | 51 cm / 20,1 inch | 40 cm / 15,7 inch |
| L | 53 cm / 20,9 inch | 42 cm / 16,5 inch |
| XL | 55 cm / 21,7 inch | 45 cm / 17,7 inch |
| XXL | 57 cm / 22,4 inch | 48 cm / 18,9 inch |
| XXXL | 59 cm / 23,2 inch | 52 cm / 20,5 inch |
Users reviews
(16)
Average rating: 4.81
Rate:

Fits nice, very cute and comfortable, I love it so much
Rate:


Very good quality and fits very well
Rate:

I really like this top, the fabric feels nice and the stitching has a good quality. If u are between two sizes i recommend to get the larger one. I'm usually a S, sometimes a M and i've orderd a M because of my Boobs (70D), it fits a bit thight around the chest.
Rate:

It's very fitted so I had the good idea of going one size up! So lovely and fair price!
Rate: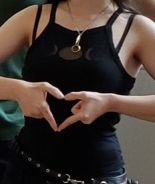 A very nice tank top, at first I found the fit a bit tight but it's actually just tight enough for me at size XS to actually not wear a bra with it and not poke out, which never happens. It is short so it might be unwise to pair it with low rise jeans, mid rise and up should be fine though. If you wear a regular bra with it your straps will show, so if you want to wear a bra I recommend a racerback or a black strap bra if you want it to blend in with the shirt.
Rate:

One of the most comfortable top I have. The size fit perfectly on body. Both simple and beautiful.
Rate:

A little bit tight but still fits. It's only hard to find the perfect bra to wear because it show a bit but not a problem.
Rate:

Love it, the fabric is not stretchy at all, just good old cotton, which I really like :) O have rather small breasts and got it in XS. It's a bit short but fits perfectly otherwise, so I'll probably will only wear it with high waisted stuff. Would definitely buy this again
Rate:

Best Top Ever!!! It's sexy and well fitted. Size chart gave a good orientation on what to expect. I am glad tho - It's not made of stretchy cloth but instead of cotton which is nice to wear but from the picture I expected a stretchier top. So next time when I order I will get one size up in order to fit my breasts in nicely. But still the best Top I own - simply because it's different, a special kind of basic black shirt and sooooo comfy.
Rate:

New favorite top! My size is S/M and I ordered this in M, fits really well. The straps were way too long, but I guess it's easy to shorten them a bit.
Rate:

The fabric is thicker than expected and a little stiff (so not really strechty), but that` is no problem. However, I feel that the top is sitting too low on my torso. The straps are a lot longer than on the fotos here. I am rather tall (1,73 cm), so I am surprised it fits this awkward and I need to shorten the straps.
Rate:

When it arrive, it seemed a bit small for me, but when I wear the look was amazing. You can use it with boots or tennis, it will look good as hell with any type of bottoms or shoes. Just as a recommendation, you have to use a strapless bra to get a nice effect on the details and on the sleeve section.
Rate:

Love this top, fits perfectly and has a nice fabric
Rate:

It's a beautiful piece and sexy as hell! BUT, the way it is cut and because I don't have big boobs, the fabric '' floats '' underarm and it's difficult to wear it, the fabric doesn't stick to my skin. So if you have small boobs, I suggest you to choose a smaller size :)
Rate:

Beautiful and cool, I like it. I wear a size M and it fits fine in M. I just don't know what kind of bra to wear if you wish it not to be seen under the top or next to the armpit as it is cut so "narrow" there .
Rate:

I love this top. The size fits perfectly, according to the size chart and it is good quality. Thanks Restyle!

Update Required
To play the media you will need to either update your browser to a recent version or update your
Flash plugin
.