Gothic necklace and earrings
Victorian necklace made of small polished beads.
The necklace has two adjustable chains.
It matches to every neck.
You will shine in this choker!
It's great accesory for admirers of retro, victorian, gothic or burlesque style.
The jewellery does not contain nickel!
Please do not interfere with perfume spray because alcohol can discolor beads.

Measurement:
 High of choker: 15,5cm
Circuit of choker: 32cm-43cm 
Users reviews
(9)
Average rating: 4.67
Rate:

When I bought it I was really happy about it because it's gorgeousand elegant, but I have to say you have to be very careful handling it, as the structure is fragile.
Rate:

The choker is very pretty and something that really fits my style. I really liked it, until it broke yesterday with one of the chains falling off. That was really disappointing, since i liked the choker so much.
Rate: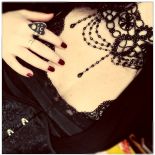 Amazing choker,make a beautiful look, love it! (My ring et my underburst corset are also from Restyle! )
Rate:

Beautiful choker, really well made. 100% recommend!
Rate:

Marvelous! High quality, fast shipping!
Rate:

Very beautiful, elegant, romantic! Plus very good price ;) total burgain! and very fast shipping!
Rate:

Gorgeous necklace, very well made and elegant design
Rate:

I'm in love with this necklace:) totally worth buying.
Rate:

cool! fast shipping!! thank you!!