Gothic necklace and brooch in one!
Pendant is made of durable metal in antique silver colour.
It presents a large bat wings with a black faceted stone.
Below is attached faceted black drop.

On the back pendant has hook for chain and safety pin.
You can wear it as necklace or brooch.
The brooch will look beautifully on blouses with jabot.
You can also use it to decorate jackets, bags and hats.

Jewelry made of zinc alloy.

Measurements: 
Width: 8cm 
Total length (with drop): 11cm  
Chain length: 60cm 
Every jewellry in our offer is compatible with EU law
Sample of every model has been tested in laboratory.
The test result is available HERE

Users reviews
(15)
Average rating: 4.93
Rate:

Beautiful necklace ! Not too heavy, goes with almost every goth outfit you can imagine.
Rate:

It's hard to open, but the design is nice
Rate:

It's a beautiful necklace and definitely my favourite ever. Quality is not necessarily the best since the chain and pendant give off a little bit if colour, but it's not visible if you don't know it's there. Otherwise, simply stunning!
Rate:

It's stunning. From now on, this is definitely one of my favorite shops online and I will surely buy more. 5/5
Rate:

I love it!! I don't like small pendants - this is very big instead, so I'm very happy with it! Super recommended! For any bat princess!
Rate:

I have been eyeing this necklace for a while now and it didn t disappoint. It s such a gorgeous and big item! It is very well made and the design is perfect. It s also a huge plus that you can turn it into a brooche. Cannot recommend this piece enough! And did you check the price?? Restyle is the best!!
Rate:

Rate:

Beautiful! Love it. Very well and good quuality for this price. :)
Rate: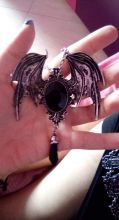 Rate:

Beautiful necklace. It arrived broken (the jewel came out of the necklace) but was easily fixed with a bit of glue. (It was shipped a long way and my post office is anything but gentle). Very lovely and a lot lighter than I thought! A must buy!
Rate:

This necklace is one of the most beautiful I have ever seen. on the back of it is a safety pin, so it can also be worn as a brooch.
Rate:

So so pretty! I didn't realize it was also a brooch so it was a nice surprise! It adds a lot to most of my outfits :)
Rate:

this is a beautiful and elegant piece! I absolutely love it
Rate:

Beautiful dramatic piece of Gothic jewelry.
Rate: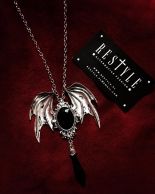 I'm obsessed with this necklace! it's beautiful and lightweight. So elegant and good quality!