Subtle necklace presents bat
with rectangle stone in decorative frame.
Jewellery made of zinc alloy in antique silver colour.


Measurements:
Width of the bat: 5 cm
Length of the stone: 2,7 cm
Chain length: 35-45 cm
Users reviews
(8)
Average rating: 4.88
Rate:

Not as pretty as the one pictured, but still nice.
Rate:

Restyle jewelry used to be my fav one before the nugoth trend.... this is one of their classics, beautiful and price is super! Perfect.
Rate:

Encore plus beau en vrai qu'en photo, comme n'importe quel bijou de chez Restyle de toute façon!! Ce collier me fesait de l'oeil depuis trés longtemps et je ne regrette absolument pas de l'avoir commandé ! La pierre est superbe et sublime n'importe quel tenue pour le peu qu'elle soit décolleté ! N'hésitez pas ;)
Rate: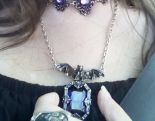 Im so in love with this , bats are my favorite creatures and purple is my fav colour
Rate:

It's pretty, though I wish the wings looked as good as they do in the photo. It still looks great nevertheless.
Rate:

I really love it. The color of the stone is a perfect shade of purple.
Rate:

Love this piece. I received many compliments, especially on the stone while wearing it. Its a beauty! :D