Branch Pentagram Hoop Earrings
Earrings presents pentagram made of branches. Earrings are two-sided.
 Jewellery is in antique silver color with grunge texture.
Project Euflonica
Measurements:
high of pentagram 5 cm
weight of one earring 11 g 
Every piece of Restyle jewellery is compatible with EU law and it's safe for your skin.
Users reviews
(17)
Average rating: 5.00
Rate:

Beautiful, big and comfortable!
Rate:

I love these earrings! They are even more gorgeous live than in the pictures. The size is perfect and they are not heavy. I have been wearing them all day and I feel them but they don't hurt me.
Rate:

These are my all-time favorite earrings. I love them so much, this is the second pair I've ordered because the first pair broke.
Rate:

Fast delivery and well-packed. The earrings are stunning, but some what heavy. Unfortunately one of the clips from one of the earrings broke off after a couple of use. Pity!
Rate:

I've worn these a few times so far and I love them to death. I have extremely sensitive ears and don't normally wear earrings so I was worried about getting metal ones that look so thick and heavy but they are actually rather light and super comfortable. The closures are very secure and tight but not too much so, and the detail is exquisite in general and especially compared to most affordable jewelry. I am so very impressed. I just recommend refraining from dancing too much or headbanging while wearing them as that does hurt a bit. lol
Rate: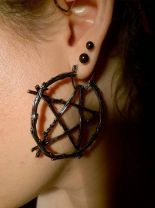 I really really love these earrings! They make me feel more witchy. Not so weight, I'm surprised they feel very comfortable. The only thing is that I have to lock the closure with a pair of pliers because if I close with my own hans one of them continue to open, but it's not a big deal.
Rate:

Love them. They are perfect.
Rate:

These are perfect amazing quality and were here in less than a week.
Rate:

Love these, and I use them with tunnels since I have stretched ears :)
Rate:

They're just perfect!! Not that heavy and super comfortable in my opinion. Thank you so much :D
Rate: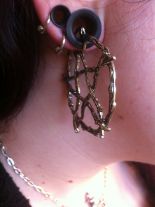 Great earrings. As said before, they're very light and confortable,but it didn't hurt me the first time. As you can see it fits very well in ear plugs
Rate:

Love these earrings. But as said above, the part that goes in your ear is not a traditional earring shape and is slightly uncomfortable at first but after that they are great. Not as heavy as i was expecting. Beautiful. Great for strega looks.
Rate:

Rate:

Love these earrings! However, they are not as large as the image with the mannequin shows. The mannequin is small in comparison to a real-life head. They are approximately 3" in diameter, which is still large to some but smaller than I anticipated. The quality and detail is so great however that I cannot complain much! The part that goes through your ear is slightly that of an unorthodox shape (more of a wider, flatter post than a basic earring one), and they did hurt a little at first (luckily my ears were previously stretched and my ear piercing holes are slightly larger than average), but after getting through the first two days of wearing them, they were (and continue to be) very comfortable and lightweight! Even with slightly stretched holes, they do not sag down which is a problem I have with some larger earrings. I absolutely love these and I love Restyle!
Rate:

In The Beginning It Hurted A Bit Because I Never Really Weared Anything Different Then Small Studs And Feather Earrings, But The Second day, It Felt Amazing! Its Not Heavy At All, Even Lighter Then You Expect! Will Buy More For Sure!!!