O-ring Backpack

Made of solid black denim (100% cotton).
On the sides there are two roomy pockets with flaps and additional zipped one on the back.
Backpack is entirely adorned with faux leather straps connected to metal O-rings.
It creates unique geometry!
Leather elements are also placed on the back to strenghten arm straps!
On the front there is a carabiner fastener connected to one of the O-rings.
Under the flap there is strong leather puller.
Inside lining with large zipped pocket and two smaller ones.


Detachable arm straps comes with wide overlays for better comfort.
Project: Euflonica
Size:
high 38 cm

bottom width 17 cm
arm straps 40-80 cm
colour

:

black

wymiar

:

39cm

,

40cm

,

11cm



Users reviews
(12)
Average rating: 4.67
Rate:

Really awesome design and quality. I got this as a gift for my girlfriend and she loves it. The delivery was fast (like usual).
Rate:

Very cute backpack, I wear it everywhere now. Only drawbacks are that it is not well made. There are some strings hanging off the stitching, the fabric is very stiff. Otherwise it is a beautiful piece, customer service was fantastic too and item was shipped quickly!
Rate:

This backpack is really bomb, I can carry all my stuff in it, and it's sturdy. Deffinitely recommend.
Rate: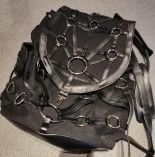 The bag is absolutely beautiful. I love it. The material is robust sturdy.
Rate:

Love this backpack. Its side pockets are super-handy for keys and my small old-school mobile phone. The main closure, which is a lobster clasp, is not that handy though, but I'm getting used. One thing I've wished many times this bag had is a loop-handle instead of just a small metal ring at the top. Still a great piece!
Rate:

I absolutely love this backpack! The quality is great and it looks even more beautiful in real life. It is large enough to use for college. Would 100% recommend this one!
Rate:

Awesome backpack, can keep all the books I need plus my macbook. Super fancy, love it :3
Rate: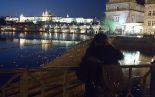 Awesome service and quality! I got this as a B-day gift for my wife and not only the package came a little early of what I expected but also it was on an awesome gift wrap that wife adored! Is her favorite bag right now. You now have a couple of permanent customers.
Rate:

The bag is really nice. Good material, big and flexible. I wish it was really black but overall I am very happy with it.
Rate:

Ordered this bag for my daughter for Christmas. Very quick dispatch & delivery from outside UK, especially considering it was the run up to Christmas. My daughter loves it & it has replaced her old favourite bag immediately. Would definitely buy from this store again.
Rate:

Very nice and large. My only problem is that in real it's not black, it's grey...
Rate:

I've been using this bag for a few months now, it's really good quality and looks amazing, just like in the pictures. It's pretty big and it has a large inner pocket with a zip and two small pockets ideal for your phone or keys. I think the only inconvenience is the main clasp in the front, it's quite difficult to open/close, I'd prefer a different way to close the bag. Also, the pockets on the sides of the bag open super easily (they close with magnetic clasps which are pretty weak) so I don't really use them.