Henna Gloves

Gloves are made of stretchy, black mesh. 
On front there is mehndi velvet flocking. Pattern is placed also on the fingers.
 On the back there is a elastic, so the gloves are very adjustable.

Henna design: Euflonica 

One size fits all:
Lenght 28 cm

Users reviews
(19)
Average rating: 4.47
Rate:

Very nice, but just decorative... they are not made to keep warm. I would like that restyle produce similar gloves but that can actually be used into cold weather.
Rate:

Beautiful gloves but a bit too big like everyone says. Another problem I see no one mention is that after the first wear they STAINED MY HANDS and fingers Black!! Why does no one talks about this? Am I the only one having this problem?... Other than that they are really lovely.
Rate:

They are so beautiful I can cry...so happy with them!
Rate:

I love these gloves so darn much!!!!
Rate:

I already bought these gloves some years ago and decided to get another pair. I got both pairs made of mesh only (thankfully no satin) ad I really love them! I have long slim fingers and they do fit perfectly well.
Rate: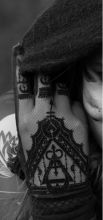 This Glows are so loveable. (Bought earlier this year - still beautiful) The only think I can say negativ about it, is the fabric "leftover" at the fingers where the seams are. For me its to mutch and it destroys the look a bit, so I burned the fabric a bit for "shortening" instead of cutting. But all in all, I love them. And I prefer that the fabric is not so thin :)
Rate:

I have long thin fingers so I was worried the gloves would not fit at all, but I was very surprised that they were only a tad bit too short. They fit great, don't itch, don't make your hands sweat, and are the most adorable gloves I own. Definitely worth it.
Rate:

The fabric is a bit rigid/stiff and the seams on the fingers cause (visible) double layers of fabric on your fingers, so you have to make sure to put them on so these are the least visible. These issues make these gloves not as comfortable to wear as I thought they would be. HOWEVER, the gloves are so very beautiful and fit well, which makes these issues only a minor thing to me. I wanted to share because other people might think they are more important than the things that make these gloves worth while to me. I love them and I try to get them to go with as many outfits as possible and wear them as much as I can while glove weather lasts.
Rate:

Vraiment sympa, même si un peu grands au niveau du tour de poignet et un peu courts. Dommage que ce soit une taille unique. Ils ne sont pas très doux, mais tout de même agréables à porter. ________________________________________________________________________ Very nice even if they're little big at cuff circumference and a litle short because of the "one size fits most". Not very soft but nice to wear.
Rate:

a little bit large for my short fingers but gloves are very beautiful
Rate: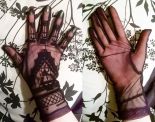 I considered my hands to be bigger than average with longer fingers, and these gloves a little loose on my hands, but fingers fit well, only a thumb is a bit too long. Sewing itself is ok, I haven't seen mesh gloves with perfectly sewn fingers. My gloves didn't have satin fabric on the inner part, they are all mesh. As previous reviewers said, velvet printing feels very rough on the inside, so if gloves would fit tightly, it probably would be very hard to put them on. Small stripe on the bottom of the design became unstuck, so I tore it off. The rest of the design feels secure, so I'm sure it's just a defect. Overall, I'm happy with these gloves.
Rate:

These gloves are pretty cool to have in your collection. They are stiffer matierial than the other gloves they well. It think mostly to do with all the intricate designs they have accross hand and up the fingers. They feel a little scratchy on me. However, the fit is good. I have found for them to have the great impact you want you need to fiddle with thema bit to fold all the seems back away from designs so down towards the palm of your hand...if that makes sense. A bit fiddly but I love them so much I am so happy with them! Great fit, very elegant which is nice as I dont particularly think my hands are nice or elegant...
Rate: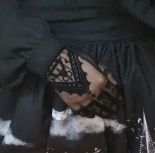 These gloves fit amazing!!! I thought they would be too thick and heavy but it turns out they are really thin, so I can use my phone perfectly while wearing. However, the material isn't smooth and lack of flexibility , which makes me feel like a layer of skin is removed every time to put on and take off.
Rate:

It fits my fingers perfectly, a bit big around the wrist. I have very sensitive skin, so the mesh material does itch when I put it on, however overall I'm very happy with this product. Absolutely stunning!
Rate:

I have very long fingers and slender hands, and was pleasantly surprised that they actually fit the lentgh of my fingers and hands well. Agree with other reviewes about the wrist being somewhat large (with understanding that these are O/S so it's actually done better than other gloves I've seen), and a few of the fingers (mainly index) being sewn somewhat offline. Also agree that the satin on the palms of the gloves is a little heavy, but nothing that I would consider to obstruct the femininity and overall elegance of the style and fit.
Rate:

Same thing for me about size, my hands are not big and these gloves fit pefect on my fingers BUT wrist is very very large :/
Rate:

I liked that when I opened the package that the inside of the gloves are a velvet kind of fabric. It gives the glove a very rich feel to them. I have regular hands so the gloves fitted my perfectly. But the inner fabric could have been thinner, because they make your hands feel so big.
Rate:

These gloves should be made in just one material and in my opinion a thinner one. The idea is pretty the problem was the conception of it. The size is another problem I have small hands and they doesn't exactly fit. The fingers sews are a bit messy.
Rate:

Glows doesn't really fit well on my hands, they are a bit to big, specially on my wrists. Fingers on the gloves are sewn a bit wonky. Satin part is extremely shiny, I find it a bit cheap costume looking. I tough I will wear them as accessories for a spring/summer. But from my opinion they are only suitable for a fall/winter wear with coats, because they look kinda heavy, not thin and transparent at all. I will give it a 4 stars as I really do support a RESTYLE shop .