"Lace Bat" Barrette
Bat shaped hairclip adorned with lace with alchemical symbols.
Project Euflonica
Measurements:
width 11,5 cm
high 3 cm  
Every piece of Restyle jewellery is compatible with EU law and it's safe for your skin.
Users reviews
(8)
Average rating: 5.00
Rate:

Bought for my mum, as a gift! Bit heavy she says but else very nice!
Rate:

I'm very satisfied. I like it so much
Rate:

Such a beautiful hair clip the detail is fantastic.
Rate:

I like it very much!! It's a bit heavy for my hair...but it's awesome!!
Rate:

Rate: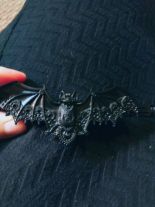 The bat itself is super detailed and the clip snaps in nicely. It may feel heavy on your hair depending where you put it.
Rate:

I like it very much! It fits perfect and looks great.
Rate:

Todo perfecto, buena calidad, envío a España bastante rápido. Buena calidad de los detalles, es un poco pesado pero no se nota mucho puesto. Abre y cierra con facilidad y queda muy bonito y sujeto.