Lunar Holster

Belt made of vegan leather with old texture.
It has four pockets: on front two compartments with zipper,
smaller one with flap closed by magnet snap and the back one.
Entire bag is plaited with leather strings. All was made by hand.
The main pocket is adorned with a beautiful made to order metal Crescent and metal lock.
The moon shaped head of the zippers are also matching the design perefctly.

In the top corners there are two, big metal rings to attach adjustable arm straps.
On the bottom there are additional hooks for shorter straps.

Set comes with three adjustable straps which allows to wear this holster in many ways!
You can wear it on hips or on the shoulder as a regular bag, or even on the back as a small bacpack!


Attached straps are entirely covered with gromets so it's totally adjustable! 
Because of that holster will fit any body type, man or a woman :)


Great accesory for any gothic style lovers. It's very handy for concerts and festivals.
Our unique design with Restyle branding.

Project Euflonica

Size:
27 x 27 cm
Users reviews
(14)
Average rating: 4.86
Rate:

This bag is really amazing! It fits very well even on my small (VERY SMALL) waist. It holds very firmly by these belts and doesn't interfere any movements at all. And it's quality is really high. Of course it's pretty small and flat, but you can freely put all necessary things like smartphone, money, documents, small cosmetics, hand mirror and another stuff inside. I'm soooo satisfied!
Rate:

Rate:

Great quality bag! It's sturdy, spacious and comfortable to wear. It looks even better than in the pictures.
Rate:

This bag is exactly what I was looking for! The quality is nice, especially for the cost. I also really like how there are multiple ways you can wear the straps.
Rate:

as seen in the pictures, lots of strap use options :)
Rate:

I love this bag so much! I am wearing it all the time. It was absolutely worth spending the money on. The quality is good, and all three straps are adjustable. Unfortunately you can't fit too too much in it, but it's enough space for the most important things, like your phone, wallet, keys etc. It is great for concerts and festivals, because you can just strap it around your waist and you're good to go! Overall I absolutely recommend it! It is my favourite bag!
Rate:

Love love love this bag! It is so handy and super great for storage when your on the go and don't want to bring a purse. Just enough room for a small wallet, phone and your makeup essentials. I was even carrying around my power bank in there once and it fit. I love it so much, I want another one!!
Rate:

This bag is awesome! Very nice material, really like the size and how versatile it is.
Rate: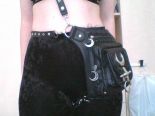 I love this bag! Though the straps were a bit confusing at first, I have now figured out how to wear it :)
Rate:

Awesome bag! Took awhile to get it since I live in the states but it was worth the wait! Super soft material and a lot more room in the pocket than I expected.
Rate:

This bag is so awesome! I love it. The only problem I had with it was one of the straps is cracked in a few places before I have even used it. I'm not planning on using that strap luckily, but it makes me wonder how long the others will last?
Rate:

Very good quality for the price! The front clasped pocket is a bit tiny and the two zipper pockets(mainly the back one) is a little awkward to get too and you can only really hold flat things. But the customization with the straps around the shoulder, hip or leg is such an amazing idea! Only downside is the straps don't have an extra loop to keep the excess straps when tightening from flapping around(mostly around the leg), so you may use a twist tie or do a DIY loop.
Rate:

Rate:

I absolutely love this bag. I wasn't too sure how well made it was going to be since its not real leather, but to be honest, its actually made better than some of the real leather bags I've owned. And also, you can't even tell that its vegan because the material used is very similar to the high quality thicker type leathers like used for biker bags. The thread used to sew it together looks and feels like the super strong, thick upholstery type thread you'd see used in leather car seats, so I definitely would not worry about any of the seams coming open over time. I also have a hoodie from Restyle that has the same crescent moon zipper pull that is on this bag, so thats an added very cool bonus :) Oh and you have to love all these fully adjustable straps that let you wear the bag many different ways! My only complaint is that my favorite accordion style wallet does not fit it (its about half an inch too small). Other than that, its a perfect bag. Beautiful design and well made.

Update Required
To play the media you will need to either update your browser to a recent version or update your
Flash plugin
.