Locket pendant in the shape of a book.
Front decorated with symbols from Necronomicon by H.P. Lovecraft.
Necklace has strong hinges. It is fastened with magnet.
The book is quite thick,  you can use it to store photos or other small treasures!
See other book-shape products HERE 
Jewellery made of alloy in silver colour with black, contrasting background.
Necklace project: Euflonica
Size:
High of the book: 4,5 cm
Width of the book: 3.5 cm
Chain length: 35-44 cm
Users reviews
(4)
Average rating: 4.50
Rate: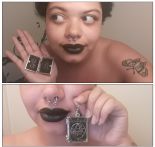 This pure treasure has a great, resilient magnet lock mechanism. The overall size makes the neat and beautiful details stand out, and the engraved decorations are very visible. The silver color seems to be of really good quality compared to other accessories I have bought elsewhere. Ultimately, this is all extremely pleasing to the eye!
Rate:

La collana che cercavo da una vita. Sono soddisfattissima! Il ciondolo è incredibile, sembra un libro vero!
Rate:

Gorgeous necklace! Only downside is that the chain is quite short compared to the size of the pendant. Personally needed to change it to wear.
Rate:

Quite large! really love it, though I found the magnet on it a little weak, so you can't really place anything inside it.