HERBAL BACKPACK with fern and crescent embroidery
Easy return of products within

90

days from the date of purchase without giving reasons
Free delivery from

$11.85
Black HERBAL BACKPACK - fern leaves and crescent moon bathed in twinkling starlight
What is just as great as a gothic bag? Of course a gothic backpack! HERBAL BACKPACK is unusual because it upgrades the extraordinary look of the anyone who wears it.
Intricate embroideries and rich, decorative stitch patterns embellish the entire front of the backpack. Beautifully embroidered fern leaves surrounded by stars, twigs, and herbs definitely draw attention. We are absolutely certain that every forest and herbal witch would wear such a backpack with pride!
This gothic rucksack is made from velvet and has two large side pockets. The backpack is so spacious that you can put there all ancient books with herbal remedies, spells, charms, and divination. Don't worry, there will still be room for other absolutely esssential things: frog spawn, bat wing, your own dark thoughts and secrets...
The charm is also in the details, such as braided thongs. In addition to the already mentioned side pockets, the backpack has two additional internal compartments: at the back and under the flap in the middle of the backpack. It's fastened with a convenient magnetic button. The backpack is additionally tightened with a strap.
This goth backpack will keep you company for many seasons of forest bathing :)
Height: 37 cm
Width: 25 cm
Bottom width: 14 cm
Opinions about HERBAL BACKPACK with fern and crescent embroidery
4.50
Number of opinions issued: 2
Click a rating to filter reviews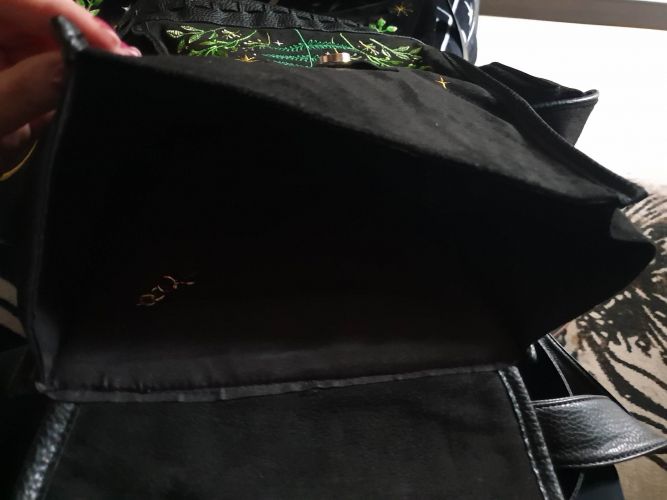 The backpack is absolutely beautiful but there is no way to close it? No string, no zipper. Don't get me wrong, ill still wear it, but for the price i expected to have at least a string to close up the bag, now i have to pay more money to add a closing mechanism.